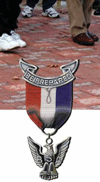 Laurel Highlands Council-Boy Scouts of America
Eagle Scout Legacy Walkway Program
"Recognizing the Past...Securing the Future"
Laurel Highlands Council has created an Eagle Scout brick walkway in front of the Liberty Bell at Flag Plaza-Scout Center to honor Eagle Scouts. Sponsorship of a brick will support the council's ongoing Scouting programs and help ensure more Eagle Scouts for the second century of Scouting.

Brick sizes: 4" x 8" - $200
8" x 8" - $400
Bricks are available with your name and Eagle Scout year inscribed.
Bricks can also be named: IN HONOR OF ... or ... IN MEMORY OF
Your brick(s) will be set into the Eagle Scout Legacy Walkway..a lasting tribute to an Eagle Scout's accomplishment that will proclaim the hope for more Eagle Scouts to follow your footsteps.
Your Legacy Walkway Gift is Tax-Deductible
A copy of the official registration and financial information of the Boy Scouts of America, Laurel Highlands Council may be obtained from the Pennsylvania Department of State by calling (800) 732-0999. Registration does not imply endorsement.
Laurel Highlands Greater Pittsburgh Council-Boy Scouts of America
Eagle Scout Legacy Walkway Program
1275 Bedford Avenue, Flag Plaza Scout Center, Pittsburgh, PA 15219
If you have questions please contact us at 412-325-7921.