What is it?
Wood Badge is the highest leadership training course offered by the BSA. It is the only course recognized by every country in the world that has Scouting.
Who may attend?
It is open to registered Cub Scouting, Boy Scouting and Venturing leaders. It focuses not on Scouting skills, but on leadership skills, taught in a Scouting setting, that are transferable to every aspect of your life.
How does it work?
It is taught in two phases: the practical phase, consisting of two 3-day weekends at camp, and the application phase or "ticket." The ticket is a contract, with five goals you promise to complete over an 18-month period, using the leadership skills you've learned during the two weekends.
You want me to volunteer for more work?
No! The great thing about your Wood Badge Ticket is that it centers around the Scouting job you're already doing! So you're not committing to doing another job. . . just learning to do your job better!
Where will it be held?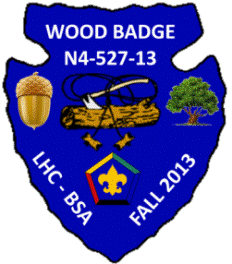 Course N4-527-13 will be held at Camp Twin Echo in New Florence, PA. Attendance is limited to 48 participants - so register early! Applications received after the course is full will be put on a waiting list.
When will it be held?
Orientation Meeting - August 7, 2013, 7:00 p.m., Flag Plaza Scout Center.
Weekend 1 begins Friday, August 23 at 7:30 a.m. and ends on Sunday, August 25 at 5:00 p.m.
Weekend 2 begins Friday, September 27 at 7:30 a.m. and ends on Sunday, September 29 at 5:00 p.m.
One patrol meeting will take place between the two weekends.
Attendance is required at both weekends and patrol meeting for completion of the course.
I'm convinced! What else do I need to know?
Living arrangements for the first weekend will be provided.
On the second weekend, personal tents and patrol cooking will be required. (Stoves will be provided.)
You need to be a currently registered BSA leader.
You need to be fully trained for your primary registered position before Weekend 1.
You will need to bring a completed BSA medical form, current through all course dates.